.
"Have you heard about the new high speed Stanna Stair Lift?
It's guaranteed to get you there before you forget what you went up for. "
A friend heard this on the radio this morning and passed it on to my Growing Old Disgracefully email group. Another member responded with the following animation, suggesting that it is more appropriate to our organisation than the joke on the radio. I have to agree. [It's not new, but it's still funny.]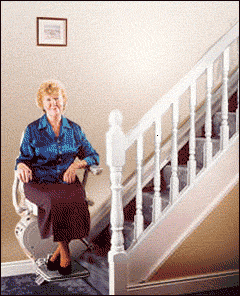 And here's another chairlift cartoon I am rather fond of. I think it came from The Oldie Magazine originally. If so, I hope they will consider themselves acknowledged hereby.
PLEASE HAVE THE COURTESY NOT TO LEAVE COMMERCIALS FOR VIAGRA AND SIMILAR DRUGS ON MY BLOG - THANKYOU